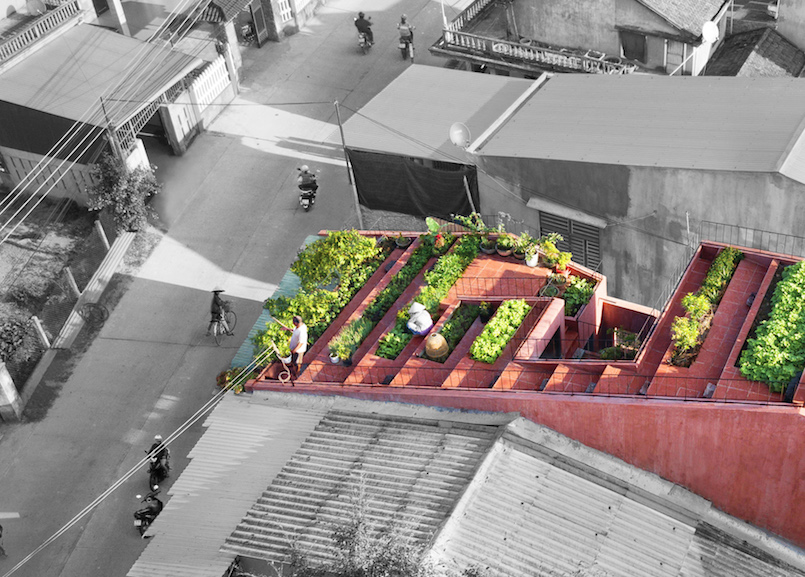 The project is a residential infill with a rooftop farm for a couple in their 50s. The house sits on a narrow site located on the main road of the village, which has witnessed the effects of urbanisation on the architecture and living spaces. They have been mainly reduced to small houses in styles that referenced those in big cities—tight spaces; dark rooms; with no space for plants—which have inevitably disrupted the rural landscape and lifestyle.
The designers decided to create a new typology, an architecture that is suitable for such a context—one that would allow for traditional lifestyles in small, narrow houses—in the form of The Red Roof house for the couple so that they would be close to nature and carry on their traditional way of life.
The green roof contains the garden and playground, and it takes the form of a stepped structure comprising different 'courtyards' at different heights, in line with the height of the structure of the house. The rooftop garden is adjacent to the courtyard of the mezzanine floor, connecting the playground and vegetable garden from the roof to the ground floor.
The vegetable garden provides a variety of clean food, enough for the family and even for sharing with the neighbours, contributing to the creation of community relationships in the village, as well as income generation of the people.
Project Name
The Red Roof
Location
Quang Ngai Province, Vietnam
Completion Date
January 2019
Site Area
80 square metres
Gross Floor Area
190 square metres
Number of Rooms
1 living room; 1 kitchen; 2 bedrooms; 2 restrooms
Building Height
2 levels (ground floor and mezzanine)
Architecture Firm
TAA Design
Principal Architect
Nguyen Van Thien
Main Contractor
Local Contracter
Mechanical & Electrical Engineer
TAA Design
Civil & Structural Engineer
TAA Design
Images/Photos
TAA Design